What is mobile brake repair?
Mobile brake repair offers a convenient and often more affordable alternative to a traditional repair shop. Instead of asking you to drive your car in for diagnosis and repair work, mobile brake services like NuBrakes send skilled, ASE-certified technicians to your home or workplace with everything they need to inspect and fix your brakes.
Mobile brake technicians can perform the same repairs as a traditional mechanic shop with few exceptions. While repairs are often done in your private driveway, apartment complex, or office parking garage, mobile brake technicians can operate anywhere that there's a flat surface.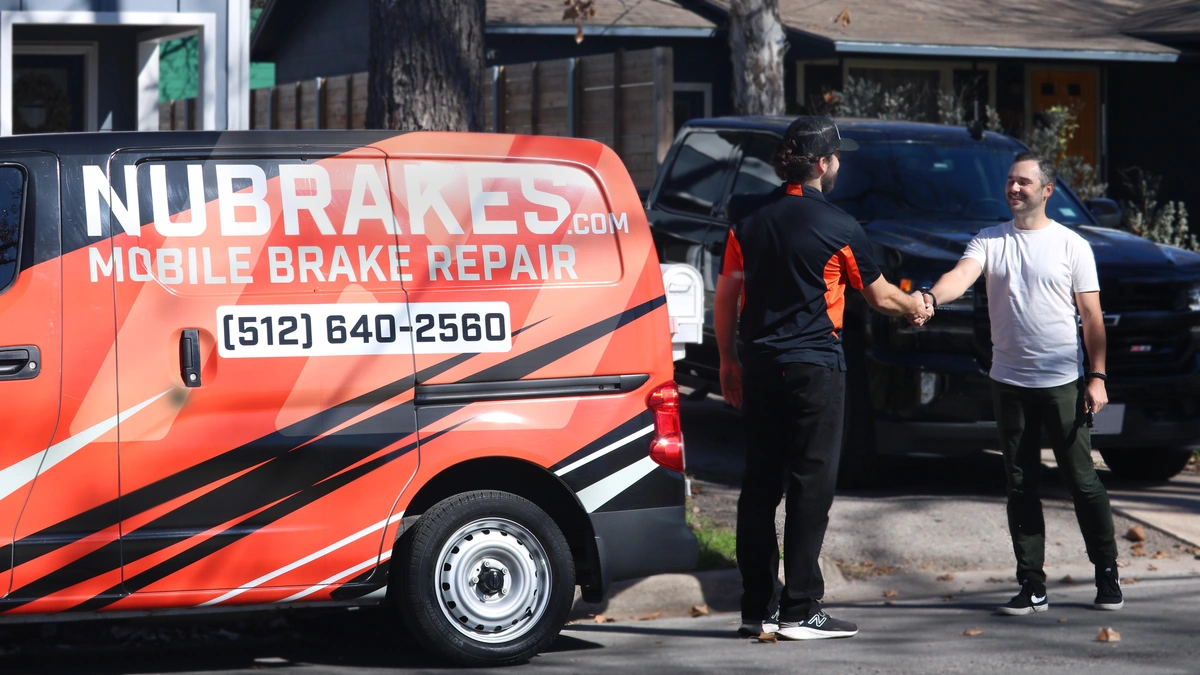 Depending on the scope of work needed, you can usually have your brakes done and ready to go in about an hour without wasting a day in the shop.
Because there is less expense involved with running a mobile brake repair business compared to a full-service repair shop, mobile brake repair also tends to be more affordable. And, because repairs are scheduled online or over the phone, you get the transparency of instant pricing and the convenience of brake service where and when you want it.
In today's busy world, work, and family life can get in the way of taking care of vehicle safety, with many people putting off needed repairs until the last minute. Even then, sitting at a local brake shop for hours waiting for your vehicle to be repaired isn't ideal.
A mobile brake repair service offers you a way to get high-quality brake replacements without ever leaving your home or office, so you can go about your day without missing a beat.
How does mobile brake repair work?
Mobile brake repair is built around convenience. Many mobile brake repair companies like NuBrakes also receive high ratings for affordability and customer service.
Using NuBrakes as an example, here's what you can expect from mobile brake repair:
1. Request a quote for brake repair online or over the phone.
2. Our service team will ask you for any additional information needed to diagnose your brake symptoms and give you a clear, reliable estimate on brake repair for your vehicle, including any additional services (like brake fluid exchange) that might be needed.
3. If you decide to move forward with repairs, we'll send you a link to book your appointment time online. You'll choose the date and time that work best for you and let us know where you'd like our technicians to come - whether it's your home, office, apartment complex, or another agreed-upon location.
4. When you book your brake service, you'll receive a confirmation email with an itemized repair estimate and additional details about what to expect from your appointment. You'll also get an email reminder ahead of your appointment.
5. On the day of your brake service appointment, your technician will reach out by text to confirm their arrival time and make sure your car is in an accessible place to complete the scheduled repairs.
6. When your technician arrives, they'll inspect your entire brake system, including your brake fluid, to verify what repairs are needed and identify any additional issues not diagnosed over the phone. They'll then explain which services you need and which ones don't. From that diagnosis, they'll offer their recommendations and you can have us move forward with the repairs you'd like done at that time.
7. Once the repairs on your vehicle are complete, your brake technician will do a test drive to ensure everything is working correctly. The entire service can be completed in 45-90 minutes, depending on the scope of repairs.
8. Afterwards, you'll be covered by a warranty of up to 2 years/24,000 miles on brake pads and rotors, or 3 months/3,000 miles when just the brake pads are replaced. You'll also be asked to rate your service and offer any feedback on what could be improved.
Advantages of mobile brake repair
There are several advantages to using a mobile brake repair service over bringing your car to a service center. These include transparent, upfront pricing and the convenience of having your car serviced where and when it's most convenient for you.
You save time and money while avoiding a missed day of work or Saturday morning at the repair shop.
Upfront pricing
When shopping around for a brake repair service, knowing what you can expect to pay upfront is helpful. Yet, many traditional repair shops refuse to provide an estimate until you bring your car into the shop.
With a mobile brake repair service like NuBrakes, you know exactly what you can expect to pay for various brake repairs before booking your appointment.
Request a quote online, tell us a few details about your vehicle and brake symptoms, and our team will get back to you with a thorough pricing estimate, including parts, labor, taxes, and fees.
Convenient scheduling and communication
Scheduling brake repair usually means having to call around to different repair shops to ask about their availability. NuBrakes mobile brake repair makes it easier. Once you receive your quote, we'll send you a link to book your appointment online.
With many same-day and next-day appointments available, select the best time slot, and we'll send you an email confirming your appointment. You'll also get a service reminder and day-of communication letting you know when your technician is on their way.
Brake repair where and when you want it
With mobile brake repair, there's no need to take time off of work or waste a Saturday waiting around at the repair shop. NuBrakes offers mobile brake service appointments seven days per week. You decide the date and time, and our mobile brake technicians will come directly to your home, workplace, apartment, or other preferred location.
Experienced mechanics that come to you
Rather than independent contractors, NuBrakes' ASE-certified technicians are full-time employees with years of experience in the automotive repair industry. Each NuBrakes technician undergoes a thorough background check and training to provide the highest level of customer service.
And, because they specialize in brakes, they generally have more repairs under their belt than your average technician. NuBrakes technicians have earned thousands of 5-star reviews for their professionalism and transparency, so you can trust that your vehicle is in good hands.
Time and money savings
It's hard to find time for car maintenance, especially for those with a crazy work or family schedule. While traditional repair shops are notorious for long wait times, mobile brake pad and rotor replacement happens on your schedule and can usually be done in about an hour. Since mobile brake repair companies don't have to operate a full-fledged brake shop, their overhead is slightly lower, which means they can provide top-tier services for less than your local brick and motor brake store.
Premium parts and warranty
When you schedule your mobile brake repair with NuBrakes, you can count on premium parts from brands you know and trust. While CarQuest OEM-equivalent ceramic pads and painted rotors are our default, we can generally source and install whatever brand you prefer for your vehicle. Our brake pad and rotor replacement services are covered by a 2-year or 24,000 mile warranty, including parts and labor, while brake pads by themselves are covered for up to 3 months or 3,000 miles.
Zero upselling
While mobile brake mechanics are well-versed in performing a variety of automotive repairs, and are happy to point out anything that they notice, what they won't do is try to sell you services you don't need. Every mobile brake repair with NuBrakes starts with a free inspection to show you exactly what's going on with your brake system, including how much life you have left in your various brake components. After walking you through their diagnosis, your technician will tell you which services they recommend for now, and what can wait for later. You'll decide on the repairs you want to move forward with and they'll complete them on site. You'll get zero upselling and no unauthorized fees.
What services can be completed with mobile brake repair?
Mobile brake repair offers many of the services you would find at a traditional repair shop.
These include:
Brake Fluid Exchange

Brake System Inspection

Tire Rotations
Some mobile brake repair companies offer basic maintenance services, including oil changes and tire rotations. Brake components that usually can't be serviced with mobile brake repair include:
Master cylinders

Brake boosters

Metal brake lines

Parking brake/hand brake
While mobile brake repair can be performed on most vehicles, some notable exceptions include vehicles over one ton, dual rear wheel trucks or vans, and RVs or trailers. Because of parts sourcing and warranty issues, it may also be challenging to perform mobile brake repairs on vehicles older than 1995.
Is mobile brake repair more expensive than a repair shop?
When you take your car to a mechanic shop, the average cost for brake pad replacement is anywhere from $150 to $300, depending on the vehicle's make and model. Mobile Brake Repair brake pad and rotor replacement costs are around $300 to $650.
However, brake service on certain car models and performance vehicles may cost more.
Pricing for mobile brake repair is generally right in line with - or even a little less than - what you'll find at a traditional repair shop. However, it offers huge convenience over taking your car into the shop and either finding another ride or waiting for hours while your brakes are being serviced.
Traditional Brake Repair Costs
Below are estimated on brake pad and rotor replacement from a few different authorities around the web. You can assume that these price ranges are for common vehicles designed for everyday use, such as Nissan, Hondas, and Ford.
Ranges for performance vehicles will typically run higher.
Parts

Labor

Estimated Total Cost (per axle)

AutoZone

Pads: $35-$150

Rotors: $60-$210

Pads: $80-$120

Rotors: $150-$200

Pads: $105-$270

Pads & Rotors: $250-$500

RepairPal

Pads: $143-$164

Rotors: $168-$233

Pads: $87-$110

Rotors: $136-$171

Pads: $230-$380

Pads & Rotors: $393-$633

Kelly Blue Book

Pads: $96-$113

Rotors: $110-$217

Pads: $118-$140

Rotors: $91-$145

Pads: $214-$253

Pads & Rotors: $282-$424

Auto Chimps

Pads: $20-$100

Rotors: $80-$180

Pads: $70-$130

Rotors: $100-$150

Pads: $90-$230

Pads & Rotors: $270-$430
Mobile Brake Repair Costs
Here are examples of mobile brake repair costs for some of the most common vehicles on the road.
Pricing is based on actual repairs completed by NuBrakes technicians using CarQuest premium OEM-equivalent ceramic brake pads and painted rotors. Costs shown here include parts, labor, taxes, and fees.
It's important to note that costs can vary depending on various factors, including your vehicle make and model and the pricing set by parts providers in different markets.
| | | | |
| --- | --- | --- | --- |
| | Brake Pad Replacement Cost | Brake Rotor Replacement Cost | Brake Pad & Rotor Replacement Cost |
| Ford F Series | $171.60 | $211.05 | $382.65 |
| Nissan Rogue | $173.68 | $193.97 | $367.66 |
| Honda Civic | $138.45 | $178.57 | $317.02 |
| Honda CRV | $165.60 | $211.05 | $376.65 |
| Toyota Corolla | $151.83 | $162.24 | $308.61 |
| Chevrolet Silverado | $173.68 | $193.97 | $367.66 |
>>For the most accurate pricing on your vehicle, start with a fast, reliable quote from NuBrakes.
What's the brake drum and brake shoe replacement cost for mobile brake repair?
While many cars today come with disc brakes, some models use drum brakes - especially on the rear axle.
On average, new brake drums cost anywhere from $250-$350, while new brake shoes will run you between $199 and $275. Here are pricing examples for recent rear brake shoe and drum repairs completed by NuBrakes.
Again, pricing estimates include all parts, labor, taxes, and fees.
| | | | |
| --- | --- | --- | --- |
| | Rear Brake Shoes and Hardware | Rear Brake Drums | Total Cost |
| Ford F-150 | $178.08 | $320.10 | $499.18 |
| Honda Civic | $187.36 | $294.69 | $482.05 |
| Toyota Corolla | $133.11 | $210.57 | $343.68 |
How long does mobile brake repair take?
The entire service can be completed in 45-90 minutes, depending on the scope of repairs.
When you book a mobile brake repair service, you'll want to sign up at a location where your vehicle will be parked for up to three hours, depending on the severity of your brake repair needs. For standard brake pad replacements, you're looking at around an hour to an hour and a half of vehicle downtime, so a lot of people elect to have their repairs handled where they park at work.
How do I find the best mobile brake repair near me?
If you're looking for the best brake repair service in your area, search Google or Yelp. A simple search like "best mobile brake repair near me" can help deliver the result you're looking for or at least point you in the right direction. Check out customer reviews and call them up to ask about pricing on brake repair for your vehicle. Also be sure to ask about the parts and warranty included with the brake service. Here are a few steps to consider when searching for the best place to get your brakes serviced.
1. Read online reviews to see what customers say about the service
When looking at customer reviews, you want to see a pattern of good customer service, quality repair work, and honest pricing. This is especially true when considering a brake repair service whose prices are well below their competitors. Often, the prices advertised to get customers in the door are for poorer quality brakes that are not recommended for most vehicles. Reviews that repeatedly mention bait and switch pricing are pretty good indicators that you are going to end up paying more for brake repair than you were originally quoted.
Also watch out for reviews that mention upselling or recommending unnecessary repairs. A good repair shop will give you a thorough breakdown of what's going on with your vehicle, but they'll also consider your budget. They'll advise you on what maintenance is actually needed to stay safe on the road, and what you can probably hold off on in order to get the most use out of a part before replacing it. If a repair shop hands you an estimate with a laundry list of parts that need replacing, consider holding off on any repairs until you get a second opinion.
Get an honest diagnosis and transparent pricing on brake repair>>
2. Shop around and ask for a few different quotes on brake repair
Many Chattanooga brake repair shops decline to provide over-the-phone pricing estimates, claiming that the only way to get an accurate quote is to bring your car into the shop for an inspection.
While it's true that a visual inspection is necessary to confirm the specific repair work that needs to be done, a trustworthy repair shop should have no hesitation when it comes to providing you with a baseline pricing scenario, especially when you ask about specific services, such as new pads and rotors on your particular make and model. A decent brake shop should also be able to tell you exactly what's included in the estimate, such as parts, labor, taxes and warranty.
3. Ask what type and brand of parts they use
While you're vetting your options among mobile brake repair providers, make sure to find out what type of products they're using on your vehicle. Cheap brake pads and rotors may seem like a cost-effective way to remedy your stopping issues, but they can often lead to more expenses down the road. Instead, seek out quality parts - either original equipment manufacturer (OEM) or their equivalents - from brands you know and trust. Some of the brands we use at NuBrakes include CarQuest, Brembo, Akebono, Raybestos, Bosch, and Wagner. However, if there is a specific brake part or manufacturer that you would like to use on your vehicle, we can typically source and install what you're looking for — just let us know when you request a quote!
Apart from the brand of brake pad, be sure to ask about the material type. Most brake repair shops will offer you three options for brake pads: Organic, semi-metallic, or ceramic. While organic brake pads tend to be cheaper, they also tend to be noises, less durable. and cause a lot of dust. As an alternative to organic brake pads, semi-metallic pads offer superior durability at a slightly higher price point. You may still get a bit of noise, but it will be less than with organic pads. Finally, ceramic brake pads provide excellent braking power and tend to last longer than either their semi-metallic or organic alternatives. They are incredibly effective at dispersing heat and produce little in the way of noise and dust.
4. Ask about the warranty (and what it does and doesn't include)
When shopping around for a mobile brake repair service, try to find out what type of warranty they offer on parts and labor. Be sure to ask about the length of the warranty, what exactly is included, and exclusions that may apply.
Many brake services come with a limited lifetime warranty on brake parts. However, this doesn't necessarily mean that you will never have to pay for brakes again. Even if parts are covered, some warranties will still require you to pay for the labor involved. Also, many warranties refuse to cover damage to parts caused by certain driving conditions such as towing or hauling, off-roading, etc. Knowing what's covered by a warranty will provide you with peace of mind and a safety net should any issues arise.
Let NuBrakes Mobile Brake Repair take care of your brake needs
Save time and money with transparent, upfront pricing and quality mobile brake repair performed by NuBrakes' ASE-certified technicians. Our commitment to convenience, affordability, and the very best customer service has earned us an average 4.94/5 star rating from 5,000+ happy customers.
NuBrakes Mobile Brake Repair at a glance
| | |
| --- | --- |
| Average Customer Rating | 4.9/5 (15,000+ reviews) |
| Mobile brake served offered by NuBrakes | Brake Pad Replacement, Brake Rotor Replacement, Brake Caliper Replacement, Brake Fluid Exchange, Brake Drum Replacement, Brake Shoe Replacement, Wheel Cylinder Replacement, Brake Hose Repair, Brake System Inspection, Oil Change (in select markets), Tire Rotation (in select markets) |
| Average service time | 45-90 minutes |
| Common car makes serviced by NuBrakes | Acura, Audi, BMW, Buick, Cadillac, Chevrolet, Chrysler, Dodge, Ford, GMC, Honda, Hyundai, Jeep, Infiniti, Kia, Land Rover, Lexus, Lincoln, Mazda, Mercedes, Mitsubishi, Nissan, Pontiac, Saturn, Subaru, Toyota, Volkswagen, Volvo |
| Markets where NuBrakes operates | Atlanta, Austin, Chattanooga, Dallas, Fort Worth, Houston, Knoxville, Nashville, San Antonio, Tampa |
To request a quote for mobile brake repair near you, simply send us a few quick details about your vehicle, and we'll get back to you with a transparent pricing estimate in under an hour.